WHO WE ARE
Join us as we dive into our beer barrel of traditions, where smooth tales and generations of wisdom mingle. It's where the old and the new embrace, creating a brew-tiful harmony. And remember, there's no "wijs-heid" (wisdom) without a good memory!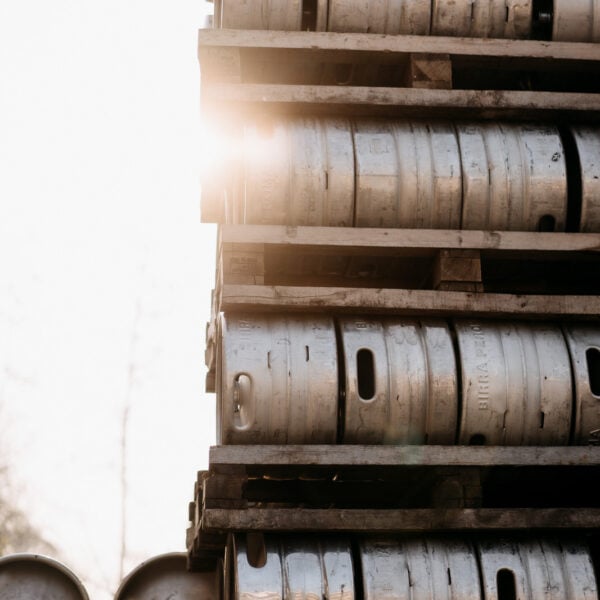 A brainchild of Van Steenberge Brewery
Hopspot, the youngest offspring of Van Steenberge Brewery, embraces and remixes the time-honoured art of beer brewing and countryside living. We're "authentically quirky," you could say. Hopspot is an experimental playground, infused with 200 years of know-how and sprinkled with a modern twist. Just like our historical building that received a contemporary makeover. And when it comes to our menu, we blend terroir cuisine with a dash of culture and nature.
Roots in the Meetjesland
We're excited to let you experience the creativity and tradition behind our Meetjesland beers. The bubbling life in the brewery is mostly fueled by the people who surround us: our guests, partners, and team members. We'll always go the extra mile to make you feel at home in a place that's delightfully different from your own four walls.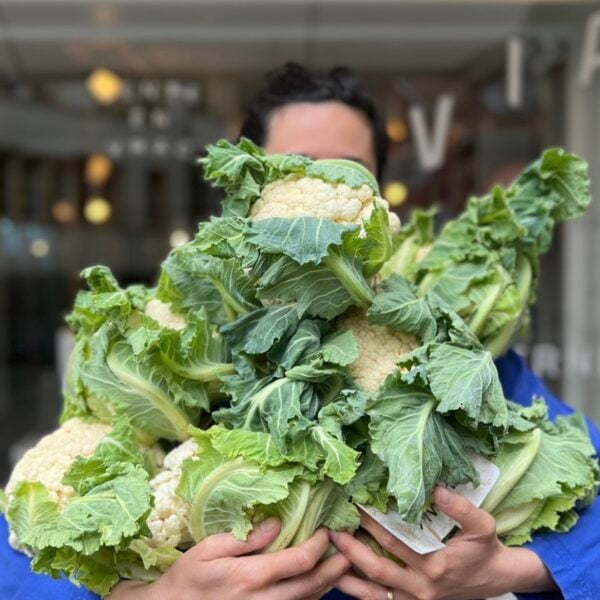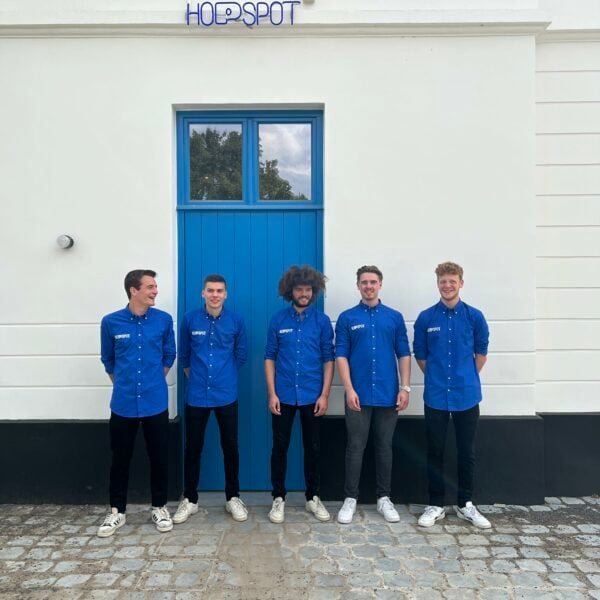 The Hopspot Tribe
Our beer-loving clan is known for its innovative spirit and unrivalled craftsmanship. We bring old traditions to life with a sparkling twist of ingenuity and creativity. The vibrant members of the Hopspot Tribe are like a lively stream of beer that tantalizes your taste buds and warms your heart. Together, we proudly carry on an ancient tradition, serving as guardians of both tradition and the flavour revolution.
Meet Lorenzo, the indispensable force behind our brasserie and café. Since he turned nineteen, he has been a proud adventurer in the hospitality industry. While his guests used to sing along to 'Dancing Queen' until 10 a.m. at his dance café, he now swaps the nightlife scene for his passion for beer at Hopspot. It seems written in the stars that Lorenzo grew up just a stone's throw away from Hopspot, creating a deep connection with this vibrant brewery. And did you know he even grows hops in his own garden? Lorenzo is fascinated by everything that happens in front and behind the bar. He has crowned the Negroni as his favourite cocktail and can't get enough of hoppy IPAs. With boundless energy and a nose for taste, Lorenzo creates an unforgettable atmosphere at Hopspot.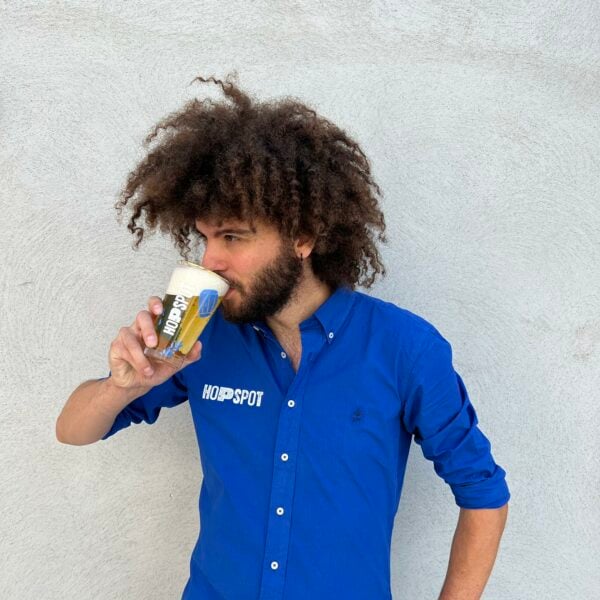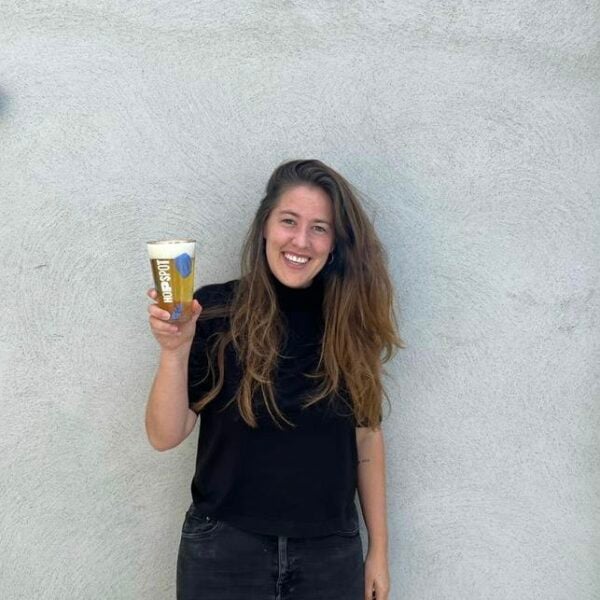 Get ready for a dose of sparkling Sophie-power! She is the indispensable powerhouse behind our events, tours, and guest rooms. With her passion for history and a tour guide diploma in her pocket, she generously shares stories from the past with you. Sophie's motto is "demain, c'est loin" – always ready for a new adventure! Outside of Hopspot, you can often find her wandering through museums or discovering the latest restaurants. As an expert judge in matters of taste, she is not only a sommelier-conseil but also a huge beer enthusiast. Did you know her scout nickname was the "hop bird"? Fate brought her to Hopspot! Embark on a journey of discovery with Sophie and turn every experience into an adventure!
Maarten, our passionate brewer and master of the brewing process in our bustling microbrewery. On Fridays, he's the "yeast bard" who works with full energy, aiming to create the most delicious and artisanal beers. With years of experience and profound knowledge of the brewing craft, Maarten knows how to achieve the perfect combination of ingredients and flavours. His dedication to the craft and his creative mind make him a true artist in the brewing of beer.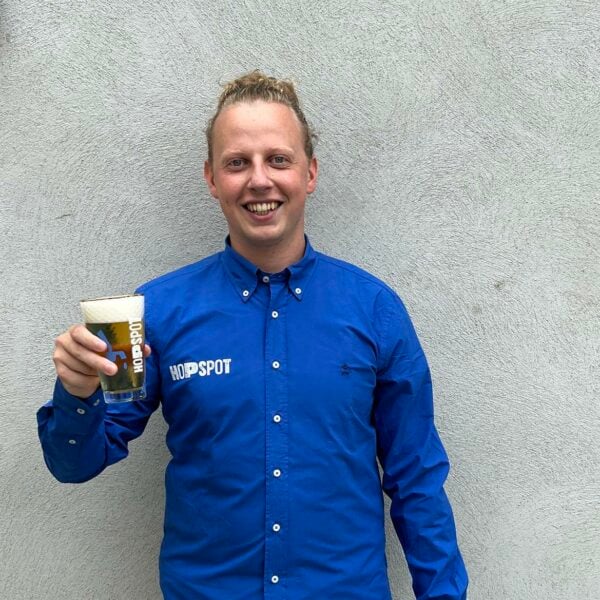 Killian, our culinary magician, and chef, is ready to delight your taste buds with his skillful balancing of flavours. As a passionate coffee lover, Killian starts his day with a strong espresso and ends it with an espresso beertini at the bar – an absolute must-try! He knows the Australian and South Korean cuisine like the back of his hand, but his heart lies in the cosy Meetjesland where he grew up. Coming from a family of six children, he understands the importance of togetherness at the table. Pull up a chair and discover his creations!
Get ready to meet Toma, the master behind the irresistible aroma of pâté en croûte wafting from the kitchen! As Killian's right-hand man, Toma not only pursued a butcher training but is also a true culinary adventurer. He even won a competition at Horeca Expo Gent with his girlfriend. Toma's heart beats faster when preparing beautiful meat creations and using pure, local products with a story. He believes in simple cooking methods that allow the natural flavours of the ingredients to shine. And guess what? This chef is also a homegrown talent. Come spot this culinary hero at Hopspot!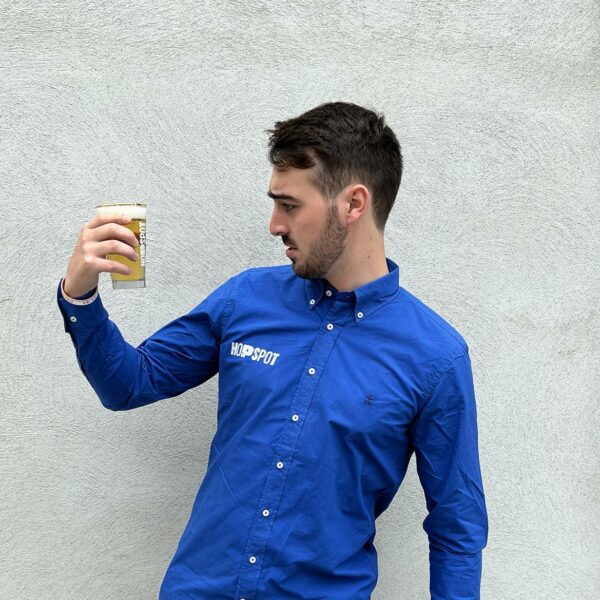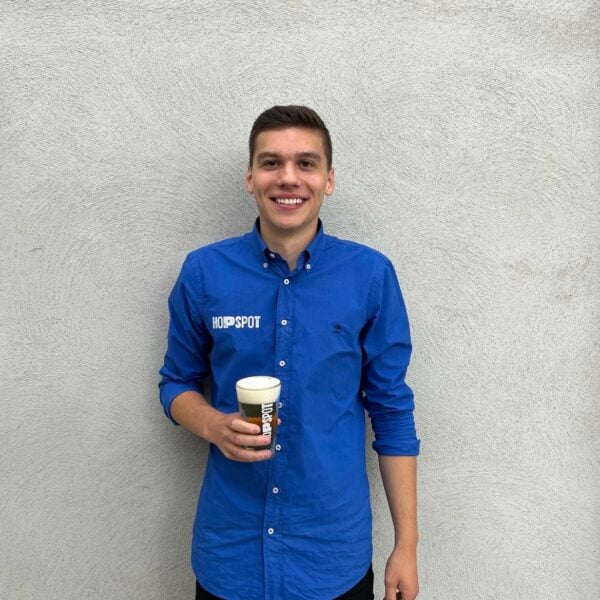 Meet Yento, our beer magician who taps field-to-glass beer while sharing the best hotspots in the area. He's the one who confidently orders a beer with every dish at a restaurant. On sunny days, you'll see him whirling around on his racing bike. Padel is his game, and on weekends he cheers loudly for the local football teams in the area. Yento – the voice of Ertvelde – knows every Flemish schlager song by heart and is a master of jokes and pranks. With this jolly companion around, laughter is guaranteed!
Did you know that beer consists of 93% water? Just like our Hopspot beer, our kitchen member Vincent is also from 'the purest water'. He grew up near the Spaarbekken van Kluizen and celebrates Tournée Minérale 12 months a year. He has been a true hospitality hero since he was 14 years old. 'Amuses' and 'mignardises' were his two first words when he grew up in a family of real Burgundians. With all that concentrate, he is bubbling with energy in Hopspot, but also while walking, cycling and walking. Just do it… or better, cook it!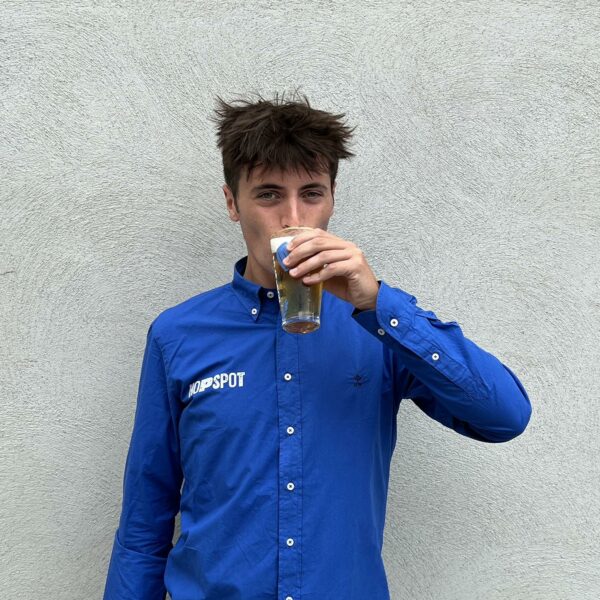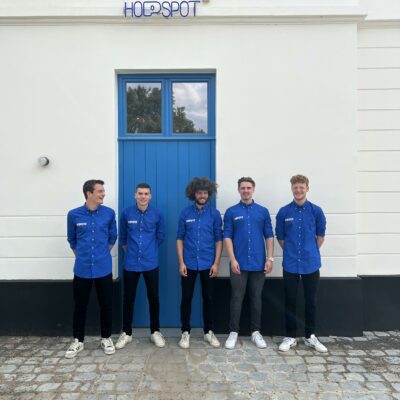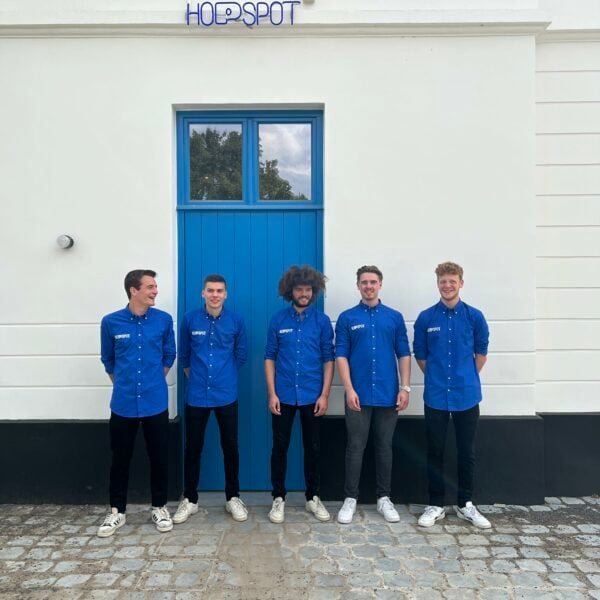 Join the Hopspot Crew!
Hopspot is all about the unique individuals that make up our team. We're on the lookout for a few more brewtiful personalities to join us.